Betting the Kentucky Derby 2013

Bet on the 139th Running of the Kentucky Derby
Betting the Kentucky Derby is always exhilarating, and you can easily get in on the action today! The running of the 139th Kentucky Derby is upon us! There is no reason not to get involved in the excitement. The days of actually needing to be in Kentucky on Race Day are gone! Now you can feel the drama of this cream-of-the-crop horse race closer to home. Modern times provides us with modern methods. Therefore, you can be betting the Kentucky Derby from the comfort of your own home. Or go to the home of a friend to place your bets online as a team. Safely. Securely. You have a world of information at your fingertips with which to make wise wagering choices.
Get in on Triple Crown Action Today
The 139th running of the Kentucky Derby is right around the corner and the field has started to take shape.
Top Derby contenders so far are Orb, Verrazano, Goldencents and Java's War. These fantastic thoroughbred horses are currently ranked 1 through 4 in the standings. Each one of these thoroughbreds have been dominant in their recent performances.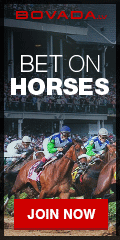 Last weekend saw the second leg of the Kentucky Derby Championship Series come to its conclusion. Java's War and Overanalyze earned entry to the Derby with wins in the Blue Grass Stakes and Arkansas Derby. Other colts like Oxbow, Den's Legacy and Uncaptured ran lackluster races and will be relying on the final two races of the Road to the Kentucky Derby to claim a gate at Churchill Downs on May 4th, 2013.
The Road to the Kentucky Derby
Those two races are part of the Wild Card round in the Road to the Kentucky Derby. However, the points available in each race have diminished considerably. Only 20 points will be awarded to the winners of each Wild Card race. This is the last opportunity for colts on the points bubble to make their case.  Therefore, it's their last chance to claim a gate in the Run for the Roses.
Those colts include the likes of Super ninety Nine, Charming Kitten and the aforementioned Den's Legacy. Charming Kitten and Den's Legacy ran last weekend, so it's unlikely that they'll race again in this weekend's first Wild Card race. That means that they desperately need a good result in the second race or they will be missing from the starting gates at Churchill Downs on May 4.
More articles about horse race betting.
Comments